Biography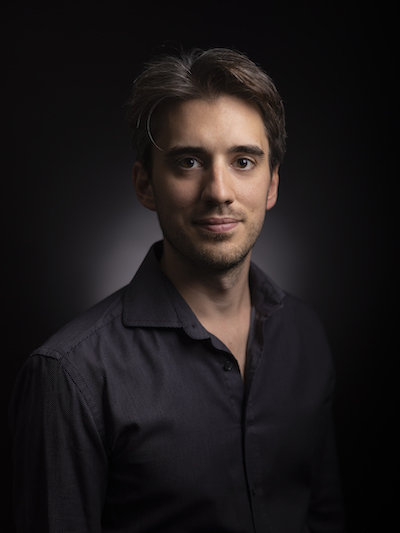 Photo Guillaume Estève, le Labo
Composer and organist, Grégoire Rolland received a master's degree in music theory (harmony, counterpoint, fugue), an analysis prize, a master's degree in organ and an orchestration prize at the Conservatoire National Supérieur de Paris (CNSMDP). He also has a master's degree in composition at the Haute Ecole de Musique of Geneva, a bachelor's degree in the music and musicology division of the Sorbonne University, and a degree in pedagogy. He worked as student with Olivier Latry and Michel Bouvard (organ), Fabien Walksman (harmony), Pierre Pincemaille (contrepoint), Thierry Escaich (fugues and forms, improvisation), Philippe Lefebvre (improvisation), Michael Lévinas (music analysis), Marc-André Dalbavie and Denis Cohen (orchestration), Pascal Dusapin and Michaël Jarrel (composition).
Grégoire Rolland composes for soloist instruments as well as for orchestras around 3 major inspirations: Gregorian, Nature and Asian culture which he is passioned about. He is also working on the correlations between music and other forms of art bonding expressions and technics of production (related to the rhetoric, writing, painting or also photography). He is developing for a few years a composition technic which associates writing temporality of Chinese ideograms and related creative musical forms. Grégoire Rolland was awarded composition prizes at composition contest such as Saint Bertrand de Comminges and Evreux contests, Lacour Fundation and Caen Orchestra. He received many commissions from prestigious institutions : Musique Sacrée à Notre Dame of Paris, De Lacour Foundation, International University of Paris – CIUP Orchestra and Choir, « Les très riches heures de l'orgue en Berry » Festival, Toulouse les Orgues, Radio-France, Festival de Chaillol, Sylvanès Abbey, Festival La Bâtie de Genève, Festival Nouveaux Horizons in Aix-en-Provence, Musique sacrée en Avignon, Ensemble Sequenza 9.3, choeur Dulci Jubilo...).
His pieces have been heard in Europe (France, Switzerland, Belgium, UK, Spain, Germany, Austria…), in the US as well as in Japan and performed by many renowned artists such as Pierre Bleuse, Philippe Brocard, Alphonse Cemin, Jean Deroyer, le Quatuor Girard, Wolgang Kogert, Olivier Latry, David Molard, Thierry Maeder, Marie-Ange Nguci, Thomas Ospital, Maxime Pascal, Tobias Willi, Raphaëlle Moreau, …
Applauded in recital on many French organ and abroad, Grégoire Rolland is laureate 2016 of the Banque Populaire Foundation and from 2018 titular organist at Aix-en-Provence cathedral. He is also professor of Composition, orchestration and of music theory at the Conservatoire d'Avignon (CRR).
In 2020 he won 1st Prize in the Composition Contest of the Cathedral of Vienna (Austria), and recorded his 1st album, as composer and organist: The Sacraments. The Academy of the Beaux-Arts awarded him, in 2021, an incentive prize for musical composition. In 2022, the vocal chamber choir Dulci Jubilo (conductor Christopher Gibert) with Thomas Ospital at the organ, recorded a monography focused on Gregoire Rolland's vocal pieces: Shēng produced by Anima Nostra.